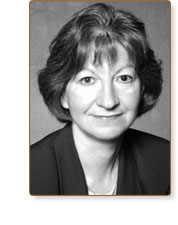 Chris is currently back on Bay Street experiencing e-mail first hand. She's seen that there is no let up to the non-productive use of e-mail in workplaces and in February 2009 launched a new elearn program on workplace e-mail. Visit her site www.36sambir.ca for more details. She is also affiliated with the Joseph L. Rotman School of Management, University of Toronto. Formerly a professor in the management communications department of the Richard Ivey School of Business at The University of Western Ontario, Chris taught MBA and executive MBA candidates the productive uses of communication channels and planning tools to enhance customer and organizational performance.
Before this, Chris was a strategy consultant with a Big 5 firm, advising companies on growth, new product, and change initiatives. Prior to that, she spent a number of years working in the financial services industry, most notably marketing wealth management and international private banking products and services. Chris' expertise in strategy, marketing, and communications has given her a solid base for understanding organizational issues from multiple perspectives.
Since 2000, she has researched e-mail in the workplace, focusing on identifying causes and developing solutions. These studies have generated guest speaking and media attention, and interest by organizations who wish to combat the problem. This interest lead to her ground-breaking book "Managing Your E-mail: Thinking Outside the Inbox."
She was a part-time columnist with The Globe and Mail (2002-2005), writing and responding to queries on workplace e-mail issues. The column was titled Inbox Insights.
Her current focus is on creation and execution of electronic communication productivity programs to North American companies.